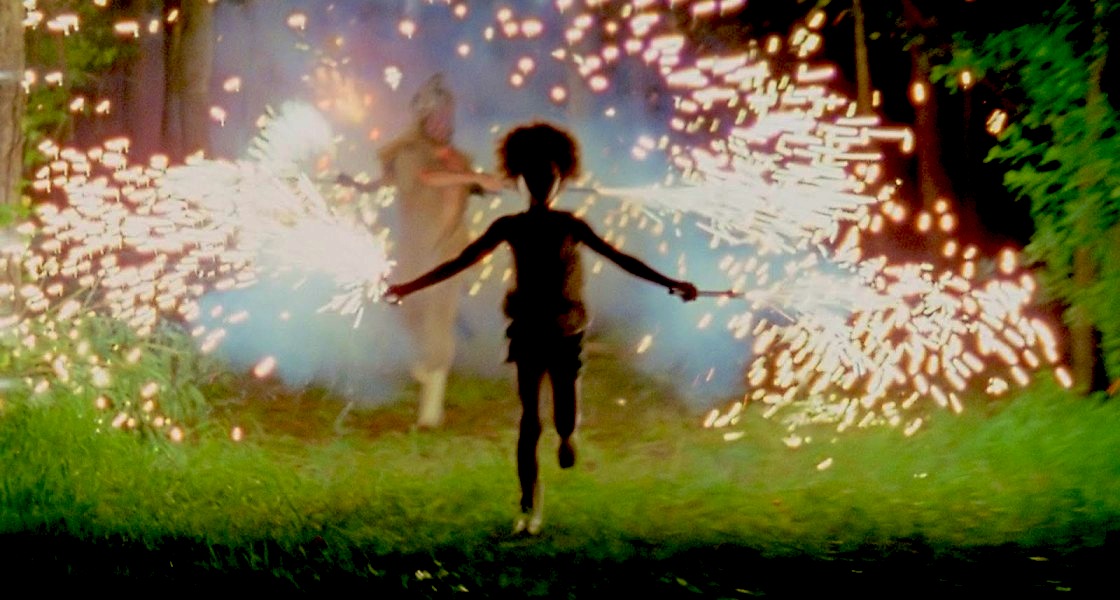 | | |
| --- | --- |
| Produktionsår | 2012 |
| Betyg | GGGG |
| Namn | Beasts of the Southern Wild |
| Genre | Drama |
| I Skrivande stund | På DVD |
| Skådespelare | Quvenzhane Wallis, Dwight Henry och Levy Easterly |
| Regissör | Benh Zeitlin |
| Längd | 1h 25min |
Sexåriga flickan Hushpuppy bor tillsammans med sin pappa i ett litet isolerat samhälle.
Hennes pappa har hälsoproblem och hela deras tillvaro hotas av översvämningar i takt med polarisens uppvärmning.
Allt detta skildras genom en sexårings ögon.
En annorlunda film… i positiv bemärkelse!
Detta är Benh Zeitlins debutfilm. Tidigare har han regisserat kortfilmer som t.ex "Egg" och "Glory at Sea".
Upplägget i "Beasts of the Southern Wild" skiljer sig verkligen från de senaste filmerna jag sett. Det är inte så mycket dialog och filmens tempo är ganska långsamt. Detta kan låta som negativ kritik, men när jag väl kom in i filmens jargong/tempo så satt jag som uppslukad resten av filmen!
Den dialog som förekom var verkligen välskriven och det kändes som att det var en sexåring som pratade och som manusförfattare måste detta vara en svår gräns att balansera.
Skådespeleriet var riktigt bra och alla skådespelare/Skådespelerskor passade för sina karaktärer som handen i handsken.
Sen så var fotot riktigt snyggt. Kameraåkningarna, miljöerna och klippningen av filmen var verkligen genomtänkta.
Personligen så tycker jag att filmen påminner om "Winters Bone" när det gäller karaktärerna och samhällsskildringen. Sen att det berättas genom en liten flickas ögon påminner till viss del om "Pans Labyrinth". Självklart är scenerna inte lika extrema i "Beasts of the Southern Wild" men upplägget var lite detsamma.
Så "Beasts of the Southern Wild" påminner alltså lite om två mycket bra filmer.
Varför får den inte full pott?
Jag tycker att filmen var lite kort. När jag väl kommit in i den här typen av film så vill jag liksom "frossa" mer i stämningen och karaktärerna 🙂