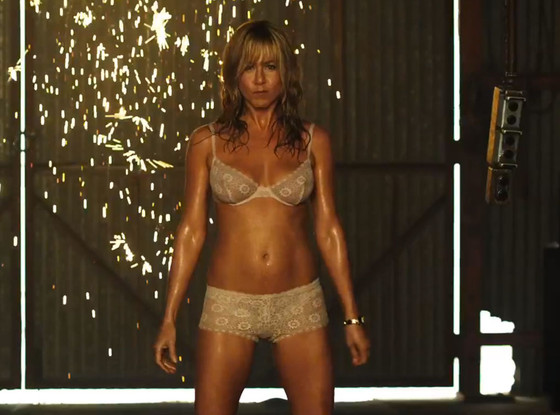 | | |
| --- | --- |
| Produktionsår | 2013 |
| Betyg | GG- |
| Namn | We're the Millers/Familjetrippen |
| Genre | Komedi |
| I Skrivande stund | På Bio |
| Skådespelare | Jennifer Aniston, Jason Sudeikis och Emma Roberts. |
| Regissör | Rawson Marshall Thurber |
| Längd | 1h 45min |
David Clark jobbar som en knarksmugglare (inte knarklangare utan knarksmugglare…) En dag så blir han rånad och förlorar sina alla pengar samt allt knark som han skulle lämnat till sin knarkkälla. Han får då en deal: Åk till Mexico och hämta "lite knark" och kom tillbaks med det hit, eller: försök att fly men räkna med att dö.
Han kommer då på den geniala iden att samla ihop en brokig skara av människor för att ta sig in i Mexico som en semestrande familj, hämta knarket och åka hem igen. Buslätt! Eller…?
Oj, oj…filmen sa mig inte så mycket alls faktiskt.
Rawson Marshall Thurber har även regisserat filmer som t.e.x "Dodgeball a True Underdog Story" och "The Mysteries of Pittsburgh".
Handlingen är ganska intressant tycker jag och man skulle nog kunna göra en ganska spännande och kanske lite djup komedi med det här upplägget..
Men tyvärr så känns det som att man har gjort det medvetna valet att göra den vanliga "köns-och sex-humorkomedin" och den typen av film är inget jag tycker är speciellt kul.
Framför allt så kändes det som att när man inte hade tillräckligt med manus eller handling så försökte man istället att fylla ut tiden med Köns-och-sex-humor vilket var synd.
Det kändes också som att ögonblicken där man som åskådare tänkte: "Jaha…de gjorde såhär för att annars hade filmen tagit slut…" var lite för många för att det skulle kännas ok.
Det var tråkigt att filmen inte var bättre, jag valde mellan den och "Riddick".
Om det var rätt val får jag (antagligen) se i morgon.