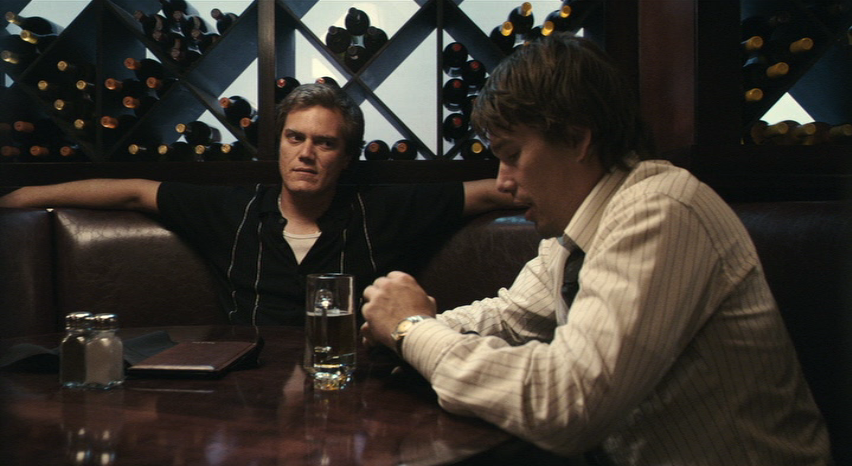 | | |
| --- | --- |
| Produktionsår | 2007 |
| Betyg | GGG+ |
| Namn | Before the Devil Knows You're Dead |
| Genre | Drama/Thriller |
| I Skrivande stund | På DVD |
| Skådespelare | Philip Seymour Hoffman, Ethan Hawke och Marisa Tomei |
| Regissör | Sidney Lumet |
| Längd | 1h 47min |
Två bröder arrangerar ett rån mot sina föräldrars juvelerarbutik.
Trots noga planering går på något sätt allting ändå fruktansvärt fel.
De båda bröderna har nu blandat in sina anhöriga i en kaotisk situation som bara blir värre och värre…
Välspelad film men tyvärr så lyfte den aldrig riktigt.
Regissören heter Sidney Lumet och han har även regisserat klassiker som t.ex "12 Edsvurna män" (vilken enligt mig är riktigt bra :)).
Både Philip Seymour Hoffman och Ethan Hawke, är två skådespelare som har gått mig lite förbi. Jag har sett ett par filmer med dem, men aldrig riktigt lagt dem på minnet.
Det slår mig dock i den här filmen är att de verkligen är riktigt duktiga skådespelare och de lyckas med konsten att ta efter varandra precis lagom mycket, så man får verkligen känslan av att de är bröder.
"Before the Devil Knows You're dead", är en film där historien skildras stötvis. Först så får man följa en karaktär, sedan backas bandet och man följer istället någon annan, för att senare få se hur helheten flätas ihop. Trots detta så upplever jag inte filmen som seg, de olika sekvenserna är precis lagom långa och man får heller inte se exakt samma scener i tillbakablickarna, så handlingen förs framåt på ett angenämt sätt.
Tyvärr så finns dock ingen riktig topp i filmen, den lyfter aldrig, vilket drar ned betyget rejält.
Men helhetsintrycket är att den är välgjord och betyget landar tillslut på ett starkt godkänt.